The Storytelling
THE STORYTELLING, OUR TRUE DNA
A true trademark of Pilgrim Support, and what makes us rather unique in the market, is the extensive use of «business storytelling» i.e. the use of authentic stories where teams, individuals and leaders have given the best of themselves, often in difficult circumstances.
These stories, used as guidelines throughout our single sessions or Excellence journeys, have a great impact on the participants: nothing beats the power of testimonies.
Used as powerful sources of inspiration and motivation, the "storytelling" introduces the trainer as an interface between the story ("Those people have done it well…") and the participants ("What does it mean to you? How to translate this in my daily job?" ) rather than being perceived as a teacher explaining how to do things better.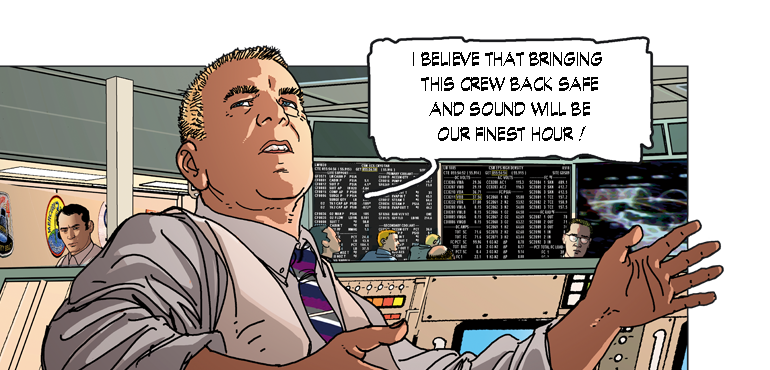 Such stories fascinate and captivate because they are:
100% authentic: the level of details and authenticity is such that, concerning "Apollo 13", the British

magazine "Spaceflight" said that the comic strip is "

more accurate than the movie"; concerning "You

go, we go", firefighter officers said to us that we can easily be regarded as firefighters ourselves; and

concerning "SARC-6 on board the

Leopold I", the officers of the Leopold I testified that our drawings are so

accurate that they "

can teach their own teams based on them."

Universal

: we purposely don't put it into a business context to avoid provoking a response like: "Oh,

but we do that differently!"

and each person quickly keys into their own attitudes and behaviour.

Proactive

: we never see teams "re-acting" to events. They are built and "take action" based on their

training and rehearsals.

Transversal

: such stories speak to everybody in the organisation. Actual examples include: executive

management, management, scientists, factory management, engineers, employees, nurses, bankers,

lawyers, workers (including night shifts workers profile), postmen, bus drivers, etc.
In addition to the dozens of ideas for improvement that it brings to mind, the stories can also be viewed from different points of view: project management, change management, certification process, innovation program, etc.