Philippe Leman
PHILIPPE LEMAN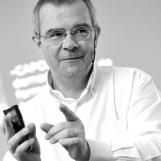 Philippe Leman was an Excellence Coordinator with the Unilever Concern for nearly 17 years, including 6 in the Netherlands, 4 in France and one in the United Kingdom.
In 2002, he co-founded Pilgrim Support. The company is devoted to help organisations in conveying and sustaining their key messages, objectives and values to their personnel and customers by using innovative medias.
As an inspirational speaker, Philippe leads conferences, presentations and training sessions in French, Dutch and English and is a lecturer in Management Schools.
Always leaving the lectern aside, Philippe walks around, raising questions and presenting extracts of videos and movies, using role playing and electronic voting systems. As a storyteller, he transforms conferences and lectures into interactive and multimedia experiences.
He is also in charge of the historical background of the stories and metaphors proposed by Pilgrim Support.
Philippe teaches at ICHEC-Entreprises and at the Royal Military Academy in Brussels.